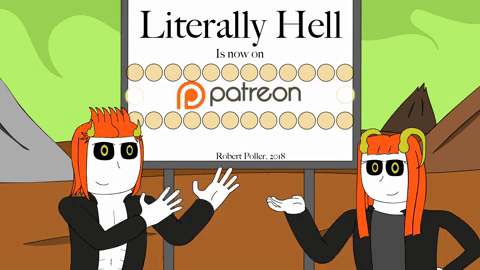 Hi everyone. :)
I've managed to get around to setting up my Patreon page once again. I've been meaning to finish setting it up a while ago but then I got sick and once I've recovered other things took priority. I will now try and make more Literally Hell illustration, mini comics and animated gifs more often and I am planing to make a Literally Hell illustration today.
Now that I have set I am offering free art commissions for a single character to the first five people who donate to my patreon page! If you've been making a web series or a web comic of your own I could draw one of your characters! So I hope you all take that into consideration. 
And of course I am offering some rewards for my Patreon page. The first tier reward is just a tip jar of $1. But the second tier rewards for $2.40 (£ 1.99) you will get access to behind the scenes of Literally Hell 1, 2 and 3 were you'll be able to see rough storyboards, animatics and deleted animatics that has never been uploaded publicly!